"We are going to get more tools and apps that do the work for consumers and business owners, automating lives in many ways so more mindless, time-consuming tasks can be passed off." – Jon Bradshaw, CTO at Calendar
Over the last decade, emerging tech-driven trends have impacted every possible industry on a global scale. This said, marketers start each new year trying to predict and define the most promising innovations on the business landscape. Here at Adimen we rely on more accurate data based on the ongoing year's quarter statistics. That's why with the second quarter of the year 2019 now in full swing, we can get a way better picture of what innovative tech trends are gaining traction.
Why are tech trends essential for your business?
Any kind of business is affected by ever-changing technologies. It can be difficult for companies to keep up the pace of tech trends, since as soon as they shift to new technologies the latter may become outdated in the nearest future. Besides new versions of well-known products or brand new software can overtake the place of the previous achievements before the business manages to adopt them.
Digital trends are certain to have a tremendous impact on every sphere of the economy. About 55 % of financial experts assume that artificial intelligence and machine learning will be the most revolutionary and transformational technology in business operation sector in 2022.
In case you do not follow the current tech trends, you risk to be superseded by the competitors whose businesses function efficiently and effectively due to the implementation of the latest technologies. Thus, newly evolving strategies urge companies to adjust to the digital world in order to succeed and survive in a highly competitive market. According to the forecasts, global IT spending is likely to reach $3.8 trillion by the end of 2019. This figure proves that businesses tend to invest in new technologies in their pursuit success.
Applying the best current technologies into your enterprises, you can enjoy a range of advantages, particularly better system's performance, savings increase, scalability, automatically updated software and what not.
The statistics proves that most of IT leaders believe the companies will widely implement various technological initiatives in 2019.
Plans to Deploy Technology Initiatives Within Organizations Worldwide in 2019
Do not leave your enterprise prosperity at the mercy of the circumstances, be proactive and consider the best tech trends that are worth implementing into your business in 2019. So, here's a wrap-up of the recent research studies from Gartner and other world's leading consulting services providing us with deep analysis and hands-on recommendations on the emerging tech trends.
Source: www.statista.com/statistics/975268/worldwide-technology-initiatives-deployment-plans/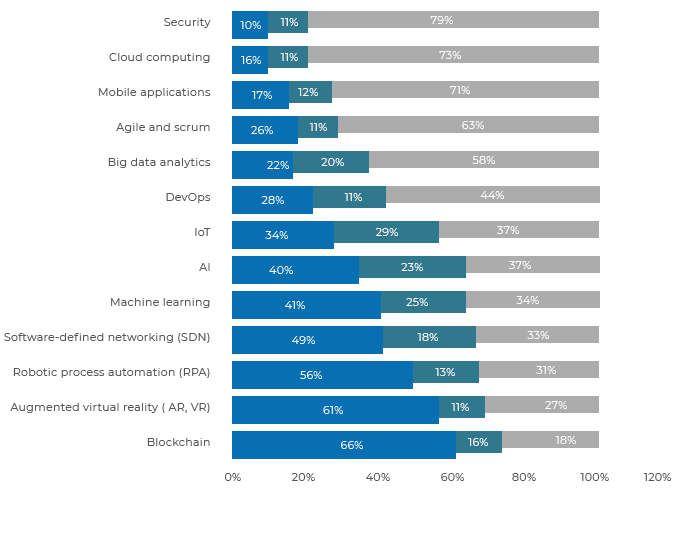 New tech trends that shape up IT industry
"Around 10% of enterprise-generated data is created and processed outside a traditional centralized data center or cloud. By 2025, Gartner predicts this figure will reach 75%." – Rob van der Meulen, Tech evangelist, Product Strategy Lead at Leaseweb
Moreover, machine-learning solutions tested on business factors can provide a thoroughly analyzed performance of the current applications. This way it is beneficiary for both engineers and businesspersons enabling them to increase the impact while reducing the risk. Experts believe software engineering empowered with AI will bring about more efficient and less costly cycles of software development. Both AI and ML fit perfectly for DevOps solutions.
1. Increased Automation
Both individuals and businesses are already using a wide range of autonomous technologies in their lives. We realize it or not, but this tendency is going to pick up the steam. Currently, a great number of industries can't go without different automated instruments and devices which allow replacing the activities previously performed by people.
The autonomous things including robots, self-driving cars, drones, automated appliances, and self-managed agents differ in their forms and functions. But there is one thing which unites them – they are all driven by Artificial Intelligence. The fact that these things can be utilized in physical as well as virtual worlds gives a tremendous advantage to various businesses performing their activities in different spheres. For instance, 55% of small business assume that their fleets will become fully autonomous in 20 years. About 30% of businesses utilizing AI-driven systems will acquire swarm intelligence as a core design element by 2021.
2. Augmented Analytics
Being a next-generation paradigm of data managing, augmented analytics uses machine learning to meet various needs related to the process of preparing and managing the data. Large companies and small startups provide a wide set of augmented analytics possibilities that could enhance data integration.
Entrepreneurs can benefit from augmented analytics while embedding it into applications of their operational departments. All this will help optimize the decisions and performance of particular workers within their field.
3. AI-Driven Software Development
Artificial Intelligence is no doubt a revolutionary tool that is gradually replacing human-driven epoch of software development and is destined to change programming for good. Unlike traditional programming, the AI-driven one will allow reducing long period required for planning and preparing a project. Thus, MVP can be developed way much faster than ever before.
4. DevOps
DevOps is a powerful Agile-backed methodology that combines categorized software development, QA and Ops teams enabling them to collaborate smoothly. Utilizing DevOps solutions you can get better teams, which ensures a cost-efficient lifecycle. The most crucial advantages of DevOps include cost-effectiveness of the development process, faster deployment of time-critical tasks, manageable and improved time-to-value, continuous delivery benefits, and smooth and code-quality iteration flow in a unified process. These days, most companies apply different technologies allowing automating specific DevOps practices.
5. DataOps analytics
DataOps is a methodology unifying DevOps teams and data engineers. The notion of DataOps was introduced by DevOps in software development that combines software engineering and information technology to create and implement products faster.
DataOps is a new approach to be applied for data optimization and management flow by combining time and effort of all stakeholders. DataOps methodology combines many tried-and-true software development and data analytics practices, including DevOps, Agile, Lean production together with the insights provided by Data Science. DataOps empowers businesses to capitalize on automated, transparent, secure, accessible, fast, scalable data.
You can leverage DataOps solutions at every stage of your company flow particularly collection and orchestration of data, its use for ideation, analysis and interpretation of large datasets, data visibility, manageability and security at scale.
6. Edge Computing
The process of collecting and delivering the data to the endpoints has become much easier thanks to edge computing. Another benefit is the possibility to come up with new services meeting high demands for saving bandwidth in the network. Alongside the increase in a number of internet-connected devices coming to the market, businesses adopt innovations that have become possible due to this serverless technology.
Through local edge data centers, enterprises can reach targeted markets with lesser expenditures on infrastructure expansion. The edge computing solutions can be used for bettering the work of digital surveillance systems, improving apps, enhancing safety and traffic, etc.
7. IoT Systems
Numerous companies have successfully implemented IoT driven instruments into their infrastructures which empowered them with the ability to enhance the manufacturing process, reduce delivery time, and reduce costs. IoT facilitates the Machine-to-Machine (M2M) communication, provides monitoring and controlling abilities. IoT solutions proved to be effective in different areas (smart factory, facility and asset management, security and operations, logistics, customer servicing, etc).
8. Digital Reality
Virtual reality (VR), augmented reality (AR) and mixed reality (MR) predetermine the way people perceive and interact with the digital world. This complex change in conversation platforms results in multidirectional user experience. The combined market for AR and VR can reach $108 billion by 2021.
E-Commerce websites and business apps empowered with AR/VR solutions help meet the constantly growing demands of customers and increase the conversion rates. These brand-new technologies are involved in every aspect of the industry unifying human and virtual content.
Source: https://www.digi-capital.com/reports/#augmented-virtual-reality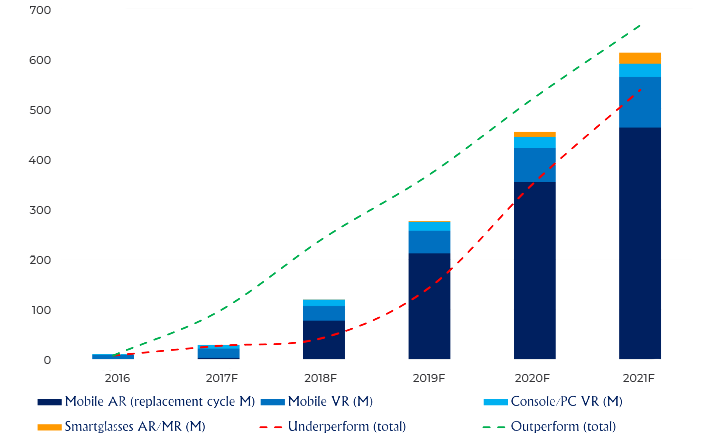 9. Blockchain
As a certain type of distributed ledger, blockchain algorithms transform industries providing them with trust, transparency, lower costs, lesser time required for transaction settlement and efficient cash flow. Except for the fact that blockchain data is more accurate and consistent, it is also available to every participant who has special access.
In financial, government, healthcare sectors blockchain technologies help prevent fraud and illegal activities. Moreover, this tool provides improved traceability to the companies involved in a broad supply chain. Since every company strives to reduce costs, blockchain allows avoiding third parties in your interaction with the end-users. All this accounts for enormous global spending on blockchain solutions, which is expected to reach about $2.9 billion in 2019.
10. Quantum Computing
Many businesses are implementing quantum computing it brings present day computing to the higher level making it possible to process more information at lesser time. This is a breakthrough technology suggesting new efficient algorithms that can be applied in a number of spheres (medicine, transportation, computer security, automotive, financial, insurance, pharmaceuticals, military industries, etc.).
QC has unseen potential to revolutionize the IT world as well. Professionals believe that in 3-5 years, these machines will be able to conduct particular calculations impossible for ordinary PC. That is the ground to predict that 20% of organizations budget will be poured into quantum computing technology by 2023.
Although new technologies are constantly emerging and evolving, these ten domains can provide your business with unlimited abilities, providing that they are integrated by the team of professionals. In case you require skillful assistance on how to put these new tech trends into effect, feel free to contact us.